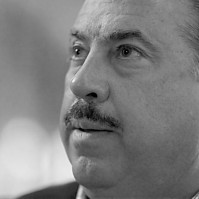 EXECUTIVE VICE PRESIDENT
Richard Gatto is one of the country's leading experts on corporate real estate across all product categories and geographic regions. His analysis of the national market has been featured on PBS, the Wall Street Journal and Crain's Chicago Business. He is responsible for directing business development, corporate services, leasing and build-to-suit activities for Alter.
Over his 30 year career, Richard has directed the development of numerous downtown high rises and flagship suburban campuses for Alter, including One11 West Illinois Street, a 227,604 SF mixed-use building in downtown Chicago; 20 West Kinzie, a 385,000 SF 17-story office building in downtown Chicago; Riverwalk at Talking Stick, a 187-acre mixed-use business park in Scottsdale, AZ; Chattahoochee Corners, a 106-acre business park in Duluth, GA; Cypress Creek Concourse, a 45-acre business park in Fort Lauderdale, FL; Corridors – Chicago, a 106-acre business park in Downers Grove, IL; and Loudoun Gateway Corporate Center, a 38.6-acre business park in Dulles, VA.
His corporate build-to-suit efforts include an 835,000 SF warehouse/ distribution facility for Thomson Learning in Independence, KY; a 157,130 SF corporate headquarters building for The Gale Group in Farmington Hills, MI; a 250,000 SF corporate headquarters building for GE Capital Technology Management Services in Alpharetta, GA; and a 350,000 SF corporate office and research-and-development facility for Lucent Technologies, Inc., in Naperville, IL.
Richard began his corporate real estate career in 1980, and joined Alter in 1984.  He holds a Bachelor of Arts in Radio, Television and Advertising from Southern Illinois University. He is a member of the National Association of Industrial & Office Properties, and CoreNet Global.