Advanced Technology Center Set to Train Next Generation Manufacturing Workforce
The College of Lake County (CLC) is making progress with its efforts to grow and diversify the local manufacturing workforce.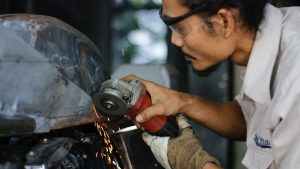 The school is turning a former Lowes store into its Advanced Technology Center (ATC) in Gurnee, Illinois. "The center is designed to be a place for students to earn degrees in machining, manufacturing, welding, fabrication and industrial technology," writes Daily Herald reporter Doug T. Graham.
CLC expects the ATC to have a considerable impact on Lake County's economy. The ATC's website says that "recent research from the National Coalition of Advanced Technology Centers (NCATC) shows the region can benefit from and is ready to invest in an ATC." Similarly, Graham reports that the CEO of Waukegan-based United Conveyor Corp, Andrew Warrington, is impressed with ATC's potential to supply local manufacturers with a ready workforce. Warrington told the Daily Herald that "the ATC will enable us to rapidly increase our pool of skilled workers."
Funding for this ambitious project also reflects its importance to local interests. In August 2021, Daily Herald reporter Mick Zawislak wrote that $20 million dollars in funding for the ATC will come from a CLC bond issue. And Chicago-area philanthropists John and Kathy Schreiber contributed another $2 million to the project. According to a press release about the donation, CLC President Dr. Lori Suddick said, "Ensuring accessible educational attainment for all Lake County residents and a sufficient, diverse skilled talent pipeline for local workforce needs are critical priorities."
In addition to its regional benefits, CLC sees ATC playing a part in the nationwide effort to reshape the manufacturing sector. The college was recently selected to join the Clinton Global Initiative's commitment to action, which focuses on making manufacturing in the United States more inclusive. Director of the Advanced Technology Center Jon Hardbarger said in a CLC press release about the initiative that the center "will expand CLC's credential program capacity and connect students directly to manufacturing jobs, ensuring a more racially equitable future for the manufacturing industry."
Graham writes that the ATC's first phase is expected to be complete by July 2022 and "will include a welding and fabrication lab, space for the new industrial technology program and a V-shaped entrance atrium."