Author:

Kent Moe

Posted:

05.16.2022

In:

Related Posts:
Greening Offices' Future
The office real estate industry is leveraging science and technology to make properties a boon to—rather than a drain on—the planet.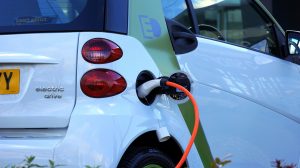 As GreenBiz explains, "ensuring a more sustainable built environment — which accounts for up to 70 percent of total carbon emissions in cities — can bring meaningful improvements to air quality, reducing chronic disease and improving the health of people living nearby." And this Earth Day, the private sector took noteworthy steps to shine a light on the climate crisis; for example, Google displayed "time-lapse satellite images showing melting glaciers, retreating snow cover, deforestation and coral bleaching to remind its users about humanity's impact on the climate," The Guardian writes. In that same spirit, stakeholders in workplaces are implementing multiple eco-friendly innovations to address environmental concerns. These changes are altering the role that offices play in the green economy.
One way that employers are facilitating greener practices is by putting in place electric vehicle charging stations for their employees and the public. This March, The New York Times reported that "one of the major sticking points to [electric vehicles'] widespread adoption remains the nation's undersized and spotty charging infrastructure." Charging stations' scarcity has made them a highly valued addition to any commercial real estate development. CBRE writes that "although electric vehicle charging may be viewed as a near-term perk or amenity, evidence suggests it will be a necessity for commercial properties in the future—real estate investors and owners must be prepared for the EV revolution." Employers are taking heed. For instance, this month, CNBC reported that banking giant JP Morgan Chase "is partnering with EVgo to pilot electric vehicle charging stations at select branches across the country, the company announced Thursday. The move is part of the bank's push to promote sustainability and reduce its carbon footprint."
In addition to electric vehicle charging stations, geothermal technology, which provides heating to buildings using energy from inside the Earth's core, can play a major role in mitigating environmental degradation. "There is an increasing awareness — among consumers and governments alike — that climate change and greenhouse gas emissions have a severely harmful impact on the environment," Plumbing and Mechanical Engineer explains. "Therefore, the demand for renewable energy sources and energy saving products, such as geothermal heat pumps, is also rising." And according to a PR Newswire report, "residential and commercial users gravitating toward renewable and sustainable sources of energy have underpinned massive lucrative avenues in the geothermal heat pumps market." The 555 Greenwich office building in New York City, is one such commercial property. Hines writes that the building "employs a groundbreaking combination of wellness and sustainability-forward features, including geothermal and radiant heating and cooling.
In addition, smart sensors are another technological advancement helping to reduce office real estate's carbon footprint. JLL writes that "with more people working remotely – or returning to offices in socially-distanced shifts – smart sensors that detect office occupancy can make a critical difference to energy efficiency by optimizing lighting and the heating, ventilation and air conditioning systems (HVAC)."And Verizon explains that "with the data available from these types of sensors, facility managers can be more energy-efficient, manage proactive maintenance, optimize cleaning schedules, analyze usage trends to allocate assets, extend the lifetime of their equipment, and so much more." Employers are seeing these sensors as beneficial to the environment and their companies' green credentials. "JLL, a partner of VergeSense which makes occupancy sensors, has been able to achieve LEED Platinum designation by utilizing energy efficient lighting, sensors, air filtration systems, and smart lighting, " according to VergeSense. "Real-time monitoring of employee behavior using occupancy sensors can impact building energy consumption by 40%."
These advancements portend a bright future for office real estate and the Earth, and they can also benefit the very stakeholders who aim to implement them. "The world is actively making an effort to be more sustainable and environmentally friendly and now is the time that all workplaces should also be prioritizing these initiatives," according to Autonomous. "Besides helping the environment, sustainable business practices also result in more business for most companies because people like to work with companies that are socially responsible."