Author:

Tom Silva

Posted:

12.04.2012

In:

Related Posts:
Black Friday Sales Bring Holiday Cheer to Nation's Retailers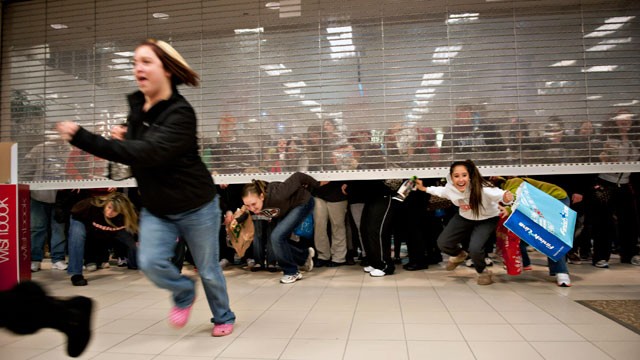 Black Friday holiday sales set a record in 2012 with 247 million shoppers visiting the malls or shopping online. That's 21 million more people than in 2011.  Total sales topped $59.1 billion.  The typical holiday shopper spent $423 over the weekend, a $25 increase over the $398 recorded last year.  The National Retail Federation (NRF) defines the "Black Friday weekend" as the Thursday, Friday, Saturday and Sunday after Thanksgiving.  One of the big stories is that online spending alone soared past the $1 billion mark for the first time ever, according to comScore.
Cyber sales rose 26 percent compared with one year ago, when shoppers spent $816 million.  This year, the average online shopper spent $172.42 over the Black Friday weekend, nearly 40.7 percent of their total purchases.  Of online shoppers surveyed by NRF, 27 percent reported making purchases on Thanksgiving Day, while 47.5 percent shopped on Black Friday itself.  Amazon.com was the most-visited retail website, followed by Wal-Mart, Best Buy, Target and Apple.
Retailers' door-buster specials drew shoppers to the stores.  "There's no question that millions of people were drawn to retailers' aggressive online promotions this weekend, making sure to research and compare prices days in advance to ensure they were getting the best deal they could," said BIGinsight Consumer Insights Director Pam Goodfellow.  "However, with shopper traffic increasing at department, discount, and clothing stores over the weekend, it's clear that consumers still recognize Black Friday as one of the biggest in-store shopping days of the year, as they have for decades."
The NRF had forecast that worries over the possibility of the fiscal cliff and the anemic jobs market might put a damper on holiday spending.  Its guesstimate is that holiday spending will rise just 4.1 percent this year, compared with 5.6 percent in 2011.  A survey by ShopperTrak found that 307.57 million Americans shopped in stores, a 3.5 percent increase over last year.  Bill Martin, ShopperTrak's founder, is more optimistic.  He notes that store traffic hasn't reached this level since 2006, possibly marking a return to pre-recession levels and could be a sign of recovery.  "We've seen that consumers are willing to shop a few extra stores," Martin noted.  "This could translate into more impulse buying and stronger sales."