Author:

Richard M. Gatto

Posted:

02.23.2022

In:

Related Posts:
Microsoft's Back in the Office
Microsoft recently made a bold move by announcing that it is transitioning back to in-person work. Last September, the Seattle-based tech giant decided that its offices would stay closed indefinitely due to the Delta Variant.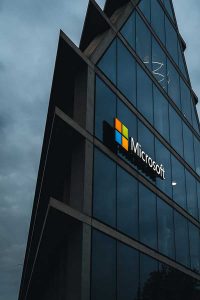 But in a blog post on Monday, Microsoft's Executive Vice President and Chief Marketing Office Chris Capossela said that, beginning on February 28, 2022, employees would have the next month to return to the company's headquarters, according to the arrangements they made with their superiors. Microsoft's locations in the Bay Area will also fully open on Feb. 28.
A factor in Microsoft's decision is the premium the company places on in-person interactions, which virtual exchanges simply cannot replace. In a GeekWire interview by reporter Todd Bishop, CEO of the Washington Technology Industry Association Michael Schutzler said, "There's also no relationship being built in Zoom. Those are transactional meetings. If you want relationships formed, you need interactions. And so I think they're really trying to make sure that they don't lose an essential part of the culture, their fabric of collaboration.
Also, King County, Washington state, where Microsoft's headquarters is located, has a high vaccination rate, another major factor in the company's decision to reopen its offices. "As of Feb. 8, 2022, 83.8% of eligible King County residents – where most of our Washington state employees live – have completed their vaccine series, and 91.6% have received at least one dose," Capossela writes. "These high vaccination rates, along with declining hospitalizations and deaths in the state, are part of what enables us to move to this stage of our hybrid work journey."
A six-stage Hybrid Work Model helped guide the company in bringing employees back to the office. The model's stages range from "Stage 1: Closed" to "Stage 6: Open", with varying degrees of in-person occupancy in between. With Monday's announcement, Microsoft's offices are returning to Stage 6. According to New York Times journalist Karen Wiese, "The company has long said it would embrace a hybrid work environment, with most employees able to work from home up to 50 percent of the time." And Capossela reiterated that the reopening plan strives to give employees a hybrid schedule that works well for them and that is in sync with what they negotiated with their teams and managers.