Author:

Richard M. Gatto

Posted:

01.25.2022

In:

Related Posts:
The Interactive Office
The modern office doesn't just look different from its predecessors -- it functions differently too.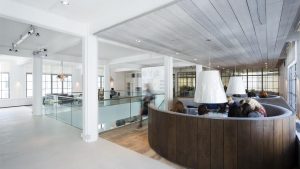 It takes directions from workers, learns their preferences through AI and gives them greater control over their built environment. Tenant engagement tools are now part of this new way of working. They often come in the form of easy-to-use apps that provide users with myriad conveniences and aggregate workplace data.
Last year, sharplaunch.com came out with a list of useful tenant engagement technologies that are meant to optimize workplaces. For instance, occupants can use a platform called HqO for "space booking, building access, visitor management, parking and transit, event and amenity booking, and order-ahead at on-site restaurants, retailers, and service providers." And Spaceflow is a platform that "creates a 'space-as-a-service' experience that allows landlords and space operators to customize services and improve tenant satisfaction." According to Spaceflow's website, it has digital capabilities that include occupancy monitoring, touchless door opening and visitor management.
Editor and Co-founder of propmodo Franco Faraudo writes that "it wasn't until the rise of social media…that the idea of engagement became mainstream." According to him, the participatory nature of social media has influenced the development of commercial real estate platforms that let tenants decide how their workplaces feel and operate. "These apps are creating engagement every time they help someone adjust the temperature in a room or call an elevator," writes Faraudo. And so, workers are no longer passive office occupants; they're integral to making their surroundings convenient and comfortable.