Author:

Michael J. Alter

Posted:

01.05.2022

In:

Related Posts:
The Key to E-Commerce's Success
Businesses are modernizing their industrial operations. "Last-mile" locations, or warehouses near population centers, are in demand and so are robots that improve throughput.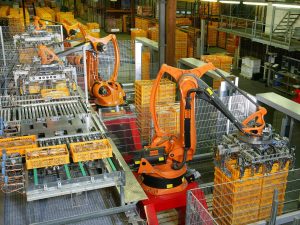 The combination of the two facilitates quicker and more cost-effective e-commerce. Acquiring this advanced technology and these well-situated facilities can help businesses overcome challenges posed by the pandemic such as supply-chain backlogs and worker shortages.
According to journalist Kyle Wiggers of VentureBeat, "the surge in online shopping has been compounded by a desire for faster shipping — a tough ask in the midst of a pandemic." And so, e-commerce companies are eager to move their facilities closer to major markets and to employ automation for fast, efficient product management and delivery. Also, automation is more affordable than manual labor, making it vital to businesses' profitability.
An automation startup called Fabric is proving successful in its efforts to place much-needed robots in last-mile facilities. In a recent article in GlobeST, journalist Kelsee Marie Borland writes that "the company secured $200 million in funding and had a valuation of $1 billion." Walmart, Instacart and FreshDirect are among Fabric's clients. Wiggers also notes that the technology that Fabric and similar companies provide their clients can help them better manage and predict resource assignment and stock availability. These capabilities are essential to e-commerce businesses competing in today's market.
This reality is putting robots on the path to becoming commonplace in industrial settings. In an article for G2-Business Software Review, journalist Sujith Nair writes, "4 million commercial warehouse robots are to be installed in over 50,000 warehouses by 2025." And a consensus has emerged regarding automation's future usefulness. According to Nair, "80% out of 1,400 IT and Operational Decision-Makers agree that over the next five years, new technology is needed to keep up with e-commerce demands."