Author:

Richard M Gatto

Posted:

01.05.2022

In:

Related Posts:
The Office's New Look
Architects are challenging notions of what an office is—blending domestic, geological and topographical elements with professional mainstays.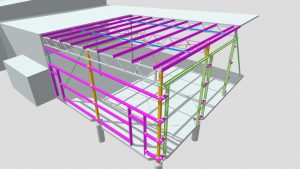 Design and architecture magazine Dezeen profiled several impressive workplaces over the last year, including a welcoming structure in Denmark, a stony complex in Mexico and a hilly development in Slovakia. These offices are original conceptions of what work can look like.
In Copenhagen, Danish practice Henning Larsen designed a 7,400-square-meter headquarters for KAB, a large non-profit that manages public housing. Henning Larsen took their client's work to heart and blurred the line between home and office. According to journalist Jon Astbury's description of the project, "Floor lamps, paintings on the walls and more domestic-feeling furniture have all been used to create a feeling of homeliness in these spaces." The building also includes a large wooden staircase, reminiscent of a residential stairwell where neighbors meet and chat.
While Henning Larsen set out to create an office that feels like home, Guadalajara-based studio 1540 Arquitectura drew on its striking surroundings to design a stunning workplace for Casa Leyros tequila distillery in Tequila, Jal., Mexico. Laja stone abounds in the city, and the studio used it to cover some of the space's interior surfaces. Architect Jaime Castillo told writer James Brillon that his colleagues at Arquitectura 1540 "are interested and inspired by the stones visible in the cuts of the hills caused by the passage of the roads, which reveal the material that is in the subsoil of the area."
Like 1540 Arquitectura's decision to incorporate the natural environment into their project, the Slovakian practice BIG has designed a group of Artificial Intelligence and cybersecurity offices in Bratislava, which will mirror the regional terrain. Reporter James Parkes writes that the campus "will be visually unified through its undulating roof. This will rise, taper and dip across its 12 volumes to evoke the nearby Carpathian Mountains." The buildings are expected to open in 2027.
These designs show the artistry and creative thought that go into office architecture. The architects' unique visions give their clients not just a place to work, but a space to find comfort and purpose.