Author:

Eduardo J. Quant

Posted:

12.15.2021

In:

Related Posts:
Industrial Real Estate's Bright Present
With industrial demand remaining high during the pandemic, businesses need more space for manufacturing and distribution.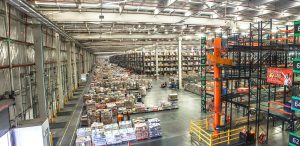 They also require "last-mile" locations — warehouses near population centers — to get their products to customers quickly and easily. And so, industrial vacancy rates are dropping, net absorption and rents are rising, and potential tenants are vying for high-throughput spaces. In a recent Wall Street Journal article, journalist Will Parker examines industrial real estate's success in the changing economy. He writes, "Overall, industrial rents in the third quarter were up 7.1% from a year earlier, while vacancy rates dropped to a new low of 4.3%, according to JLL. In areas like Los Angeles and New Jersey, industrial vacancy rates are below 2%."
The nationwide trends that Parker notes are evident in the Chicago-area where the need for industrial real estate outpaces its availability. According to JLL's Chicago Industrial Insight – Q3 2021, YTD net absorption is 27 MSF, edging out 2020's 23 MSF, vacancy is at 4.4%, which is 1.3% lower than it was last year, and direct asking price is high at $5.35 PSF. These numbers reflect the pandemic's trickledown impact, which has driven retailers to acquire more space to meet unprecedented e-commerce demand. They are also indicative of industrial real estate's limited supply in and around Chicago, which has made this an owner's market. But the report discusses recent construction that is helping to provide Chicago-area businesses with new space.
For example, last year, Alter began construction on Cornerstone in Grayslake, a near suburb of Chicago. The master plan includes 3,000,000 SF of light industrial, research-and-development and logistics space. In 2020, Rejournals.com reported that healthcare company Medline Industries was set to move into a Cornerstone warehouse, which will be the fifth-largest warehouse in the world. Although Medline made the announcement before the pandemic, their decision to relocate to Cornerstone is attributable to several location-specific factors that continue to make the development highly desirable. In a Bisnow article by journalist Brian Rogal, Kevin Considine, the President and CEO of nonprofit economic development agency Lake County Partners, said, "Medline chose Cornerstone over major parks in Indiana and Wisconsin because of the quality of our labor force, our lower taxes and our transportation infrastructure."