Author:

Michael J. Alter

Posted:

01.14.2022

In:

Related Posts:
The Office Comeback
Employees working in-person again expect more from their offices. Instead of humdrum collections of cubicles and watercoolers, workplaces must now be environments that foster health and rejuvenation.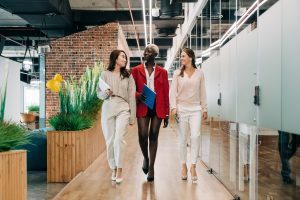 Since many employees currently have virtual and flexible work options, spaces that cultivate their productivity, happiness and overall wellbeing are essential for a viable office comeback.
A recent JLL report, titled "Three things workers want from the office," explains that healthy dining options, restful common areas and invigorating outdoor spaces are at the top of workers' new list of office necessities. Presently, though, "only 17 percent of workers have access to relaxation spaces, 19 percent to healthy food, and 25 percent to outdoor areas," JLL states. And so, employers can add recliners, gardens and "health-conscious vending machines" to offices to enhance their employees' workday. As Ben Tindale, managing director of accounts, JLL Work Dynamics – Australasia said, "the office should offer an experience as comfortable as home but with compelling, energetic spaces and a sense of community that isn't obtainable at home."
But today's employees require more than an energizing and comforting experience in the workplace. Technology and design that ensure safety, convenience and sustainability are also imperative for their return. And employers are now looking at real estate that has these vital features built in. According to PWC's 2022 Emerging Trends in Real Estate report, "Demand is concentrated in space with access to cutting-edge technology such as touchless entry and mobile connectivity, and sought-after amenities such as high-quality HVAC for air circulation, health and wellness, energy efficiency, and appealing common areas."
The draw of amenities such as these has made high-end office real estate competitive despite the fallout from the pandemic. For example, on Chicago's North Michigan Avenue, the direct vacancy rate was 8.2% for Class A offices, according to a third-quarter 2021 JLL report. The recent demand for sophisticated workplaces portends employees entering offices that are quite different from the ones they left more than two years ago.