Author:

Richard M. Gatto

Posted:

02.14.2022

In:

Related Posts:
Phoenix's Rise
True to its name, the Sunbelt has shown that its office real estate sector is brightening up.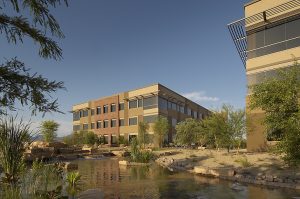 Despite almost two years of COVID-19-related difficulties for workplace occupancy and earnings, the fourth quarter of 2021 saw encouraging metrics that indicate gateway markets in the South and Southwest are bouncing back.
An article in Seeking Alpha reported that office utilization levels "have shown notable improvement above 50% in major Sunbelt markets including Austin, Houston, and Dallas and closer to 75% in several Sunbelt markets including Raleigh, Charlotte, Atlanta, and Phoenix." It attributes this upswing in part to the less-time-consuming office commutes that workers in these cities experience. For instance, Phoenix has an average commute time of 52.4 minutes; compare that to New York City which has one of 72.6 minutes.
In addition to the quick commute, Phoenix has multiple advantages for businesses and investors. According to JLL's Phoenix Office Insight-Q4 2021 report, the city's "business-friendly environment and diverse workforce continue to drive interest in Phoenix as one of the nation's most attractive relocation and expansion targets. Out-of-state users still perceive Phoenix as a long-term investment that is comparably affordable and boasting a rapidly growing talent pool." A CBRE report on Phoenix's burgeoning tech industry notes how the availability of a college-educated workforce, affordable residential options and various public-private partnerships have made the city a strong business hub.
Phoenix's attractiveness to businesses has contributed to its resilient office real estate sector. According to Mike Garlick, the managing director for Newmark Knight Frank, "Block 23 in Downtown Phoenix went for $488 per square foot. The esplanade at 24th Street and Camelback Road is going to trade for close to $400 per square foot. So there is capital coming into the market." These numbers are impressive given the depressed price per square foot in other markets since the pandemic began.
Tenants are also flocking to localities beyond Phoenix's city limits, such as Scottsdale, which is creating a wider boom for the region. For example, CBRE's Phoenix Office Market Report Q4 says that the Northeast Valley/Scottsdale submarket "represents 42.9% of the gross leasing activity in the fourth quarter of 2021. The submarket is a combination of vacant land and an urban city rich with amenities which creates a unique opportunity for the region."
Developers are capitalizing on this opportunity with sophisticated, high-quality projects. Garlick told AZBIGMedia that "the third quarter delivered approximately 388,347 square feet of new office product across Greater Phoenix, driven by the completion of the UNION Building 1 in Mesa and Choice Hotels' tech headquarters in Scottsdale."