Author:

Richard M Gatto

Posted:

12.09.2021

In:

Related Posts:
The New Un-Virtual Office
Businesses are re-imagining offices—making them hipper, safer, and more convenient than they were before the pandemic.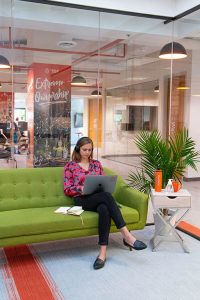 Amid a labor shortage and virtual work's rise, executives want top-of-the-line offices that will incentivize employees to return to working in person. In his article, "Businesses Lease Trophy Space to Stoke Return to the Office", Peter Grant, a journalist with The Wall Street Journal, explores the demand for workplaces that provide tenants with more than cubicles and watercoolers. "These new office digs offer custom-built lounges, game rooms with ping-pong tables and foosball, and apps that enable employees to contact building security or order a burger from the company cafeteria," Grant writes. "The state-of-the art office towers also emphasize sanitation, outdoor space and sustainability, featuring robust ventilation systems and outside dining areas with fire pits."
Now that businesses are willing to pay more for these enhanced workplaces, the office real estate market, which has been struggling since the beginning of the pandemic, is experiencing new growth. According to JLL's Chicago CBD Report for the third quarter of 2021, the popularity of Class A+ and trophy offices is driving office real estate's resurgence in certain Chicago neighborhoods. "Tenants have flocked to quality office spaces in vibrant communities such as Fulton Market," according to the report. "Of the total leases of 10,000 SF or more signed in Q3 2021, 57% came from Fulton Market and the Old Post Office combined, the latter of which is inching closer to being fully occupied."
And in Scottsdale, AZ, Alter is developing Riverwalk at Talking Stick, Class A office real estate that's also accelerating a comeback for in-person work. Among of the country's largest developments on Native American land, Riverwalk at Talking Stick will yield an estimated 1,500,000 SF of corporate office and retail space and create nearly 15,000 new jobs. Last year, Nextiva, Inc., one of the nation's largest business communications companies, announced that it would move its headquarters to Riverwalk. Their new three-story facility features an open-floor configuration, 7:1,000 parking, on-site deli and training center, and is located on the banks of Riverwalk's sumptuous internal lake.