Author:

Michael J. Alter

Posted:

12.22.2021

In:

Related Posts:
The Wide Appeal of Chicago's Biotech Hub
Biotech companies are making their home in multiple locations across the Chicago area, giving new meaning to the word "hub."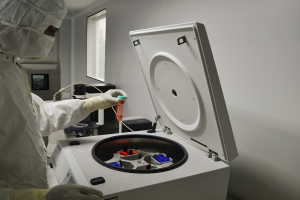 In Skokie, Chicago's Singerman Real Estate recently purchased space in the Illinois Science & Technology Park. In Lake County, Rosalind Franklin University received $2 million from Illinois' Rebuild Illinois-funded Wet Lab Capital program to complete its Innovation and Research Park. And in the Fulton Market District, Northwestern's Vanqua Bio leased research space near where a new lab will be opening. These developments suggest that Chicago's biotech sector is uniquely spread-out, as compared to more-concentrated research hubs in Boston, Raleigh-Durham, and San Diego.
This unconventional configuration has multiple draws. In a Crain's Chicago Businesses column, reporter Danny Ecker writes that Chicago's  dispersed biotech facilities "could create a unique offering with multiple locations and rental price points to serve a wide variety of researchers."
Additionally, having facilities throughout the area can help the local biotech industry bring in researchers looking for different residential options. In a piece in Crain's Chicago Business, blogger and columnist Joe Cahill writes, "The lack of a single geographic core also could be seen as an advantage in attracting talent. Chicago's biotech sector has options for workers who want an urban workplace and for those who prefer suburban settings."
An example of this is Alter's development Cornerstone in Grayslake, a multi-use facility with sophisticated amenities. Its location in suburban Lake County gives researchers access to Chicago and surrounding suburbs. Companies can leverage Cornerstone's expansive, pad-ready sites to develop research areas, quality control (QC) labs, and production facilities. Our land parcels allow for the launch of pilot operations and materials production for clinical trial phases 1, 2, and 3 all the way through to market entry. This infrastructure combined with the project's proximity to Chicago, Milwaukee, and Lake Michigan will attract biotech companies looking for cutting-edge, well-situated facilities.